Engineering
What ever the project what ever the task.
Turbo-Technik offers a well trained in house engineering team. Our engineers are well experienced and up to date, we provide complete design, engineering services and turnkey solutions. Turbo-Techniks engineering team supports you throughout the whole lifecycle of the project by keeping the downtime and the project management costs to a minimum.
We offer solutions tailored to your needs!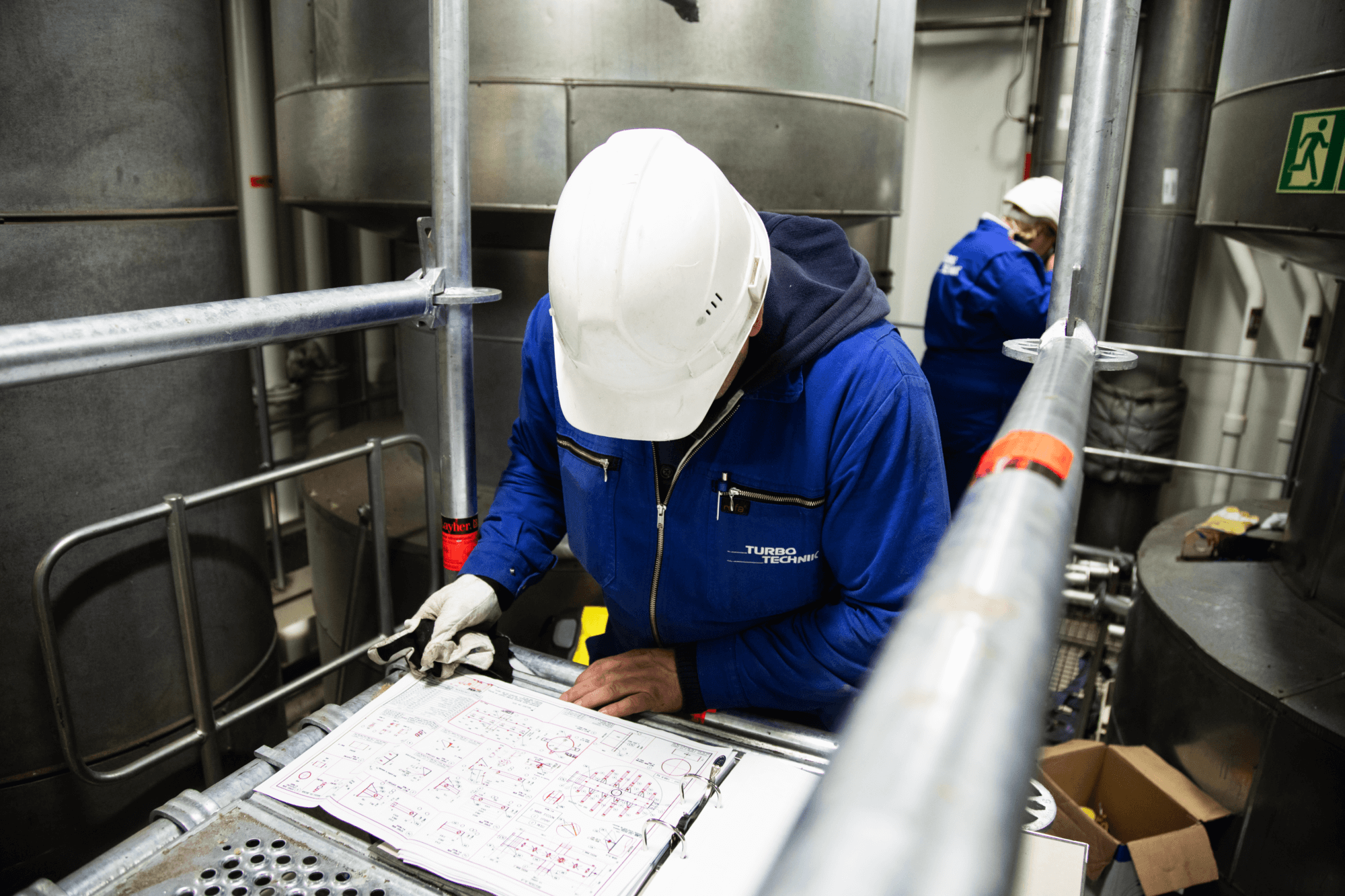 Why to choose Turbo-Technik?
Reduce your project management costs with Turbo-Technik as a single point of contact for communicating with equipment providers, yards, engineering and class or flag societies.
We have gained various competencies from projects around the world. Our permanent employees are well educated, trained and up to date about new regulations and systems.
Our strengths:
 Long lasting experience since 1967
 Great expertise from well trained employers
 24/7 on call for world-wide ship repairs and service
 Turbo-Technik is your single point of contact, we take care of your problem
 Close contact to equipment providers, yards, engineering and class or flag societies
 Highest quality and safety requirement
3-D Laser Scanning
We do the measurement without
disruption of your business.
Turbo-Technik engineering's 3-D laser scanning is a modern image process for fast and accurate 3-D measurement. Our engineers use the scanned data to create as-completed drawings and to plan alterations and extensions. Foundation drawings are often derived from the scanned data, which form the basis for the layout of downstream projects.
Based on the much shorter on-site measurement times, 3-D laser scanning offers a cost-effective alternative to conventional measuring methods. Costly and time-consuming repeat measuring is redundant and replaced instead by analysis in the office.
Millions of measurement points per scan
Due to the very high information content of the scanned data – millions of measured points per scan the evaluation and use is highly flexible. Various cross sectional views are possible for fast visualization, as well as the utilization of the point cloud as a basis for 3-D modeling. Neither is there a need to fully define the scope of the survey prior to the recording, since the evaluation is performed in the office.
The project team has virtual access to the plant to carry out direct measurements. This enables location-spanning and efficient cooperation. The laser scanner also facilitates surveys of complex and hard-to-access plants – without interrupting operations.
We rely on FARO, a global leader in computer-assisted measuring systems. For final visualization we may use various software solutions, depending on requirements, or develop customized representations in cooperation with our customers.
Turbo-Technik offers a complete design and engineers service in 3-D modeling, for Ballast Water Treatments and Exhaust Gas Cleaning systems or any other applications.The 3-D laser scanning can be done without any disruption of your business.
accurate 3-D measurement without disruption of the daily business
 3-D Laser scanning is a cost alternative to conventional measuring methods
 virtual acces to the plant all the time
 conversion to 3-D CAD
Reverse engineering
Reverse engineering is paramount to multiple industries such as manufacturing, automotive, aerospace, and in a wider sense, even areas such as healthcare. It has a broad range of applications, including product improvement and reconstruction, design augmentation and many others.
In the shipping business reverse engineering can be used for huge machine parts in difficult locations as well as for very special turbine- or machine parts.